Study in Guizhou
Study in Guizhou Province
...........................................................................................................................................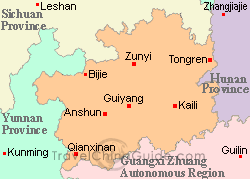 Study in Guizhou
Guizhou Province, with its capital Guiyang, is located in the southwest China mainland. It adjoins Sichuan Province to the north, Yunnan Province to the west, Guangxi Province to the south and Hunan Province to the east. Guizhou covers an area of over 176,000 square kilometers (about 67,958 square miles) with a total population of more than 35,245,000.

When to go
Guizhou has a subtropical humid climate. There are few seasonal changes. The weather is frequently cloudy and rainy all year. The temperature is also moderate, not too cold in the winter, or hot in the summer. Annual rainfall in Guizhou Province averages nearly 1000-1300 millimeters and annual temperature averages 15C around.
What to see
The mountainous landform Guizhou Province is unfamiliar to many travelers and tourists. However, the peculiar natural scenery, remarkable national customs, brilliant history, culture and the pleasant climate condition form a unique, aboriginal, unsophisticated and mysterious landscape which is attracting more and more tourists, both domestic and international. Maolan Karst Forest Natural Conservation, which contains mountains, water, forests and caves, all in the same location, is breathtaking. Huangguoshu Waterfall is the biggest in China and among the world's famous waterfalls. Dragon Palace, which is located nearly twenty miles southwest of Anshun City, is a splendid underground Karst type cave. It looks like a fairy tale crystal palace. A boat-ride will take you to see the magnificent views in the caves, and you will feel like you are in a fairyland. Zhijin Cave Scenic Spot is another highlight. It is famous for its massive, scale, stalagmites, stone pillars and stone pagodas in unbelievable heights and numbers. There are over forty kinds of Karst precipitation formations in the cave. The Zhinjin Cave is known as "the Museum of Karst Formation". Hongfeng (Red Maple) Lake scenic spot, thirty-three kilometers from Guiyang city, is also worth a visit. It has over 100 islands within the clear blue water lake. The karst land formations, fascinating water and hills, as well as the spectacular caves make this area a state ranked key scenic location.
Guizhou ethnic people
More than 15 minority ethnic groups settled in Guizhou and most of the amazing scenic areas are located in these settled minority areas. In addition to enjoying the scenery, visitors can discover the rich and varied folk customs and cultures of the different minority ethnic groups of the region. Numerous festivals throughout the year, strong but simple and unsophisticated customs, architectures with unique style and the exotic and colorful costumes, will make tourists feel everything is new and fresh.
Guizhou Province is a fascinating area that can be explored on foot and by basic transport.