Study in Zhejiang
Study in Zhejiang Province
...........................................................................................................................................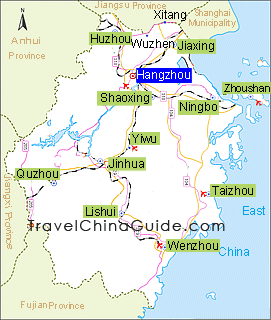 Study in Zhejiang
Zhejiang Province is situated along the shore of the East Sea. It has a total area of over 100,000 square kilometersZhejiang International Studies University (38,600 square miles) and a population of 46 million. Zhejiang is home to many minority ethnic groups including Han, Hui, Manchu and Miao. Zhejiang is the province with the most islands in China, with more than 200 islands along its coast.
When to go
Zhejiang enjoys clear-cut seasons due to its subtropical geographic location. Every year, there is a rainy period, which occurs from early June to early July. Sometimes from late August to late September typhoons will attack this region. The annual rainfall is from 1200 to 2000 millimeters. Spring and autumn are the most pleasant months for travelers to visit Zhejiang.
History
The history of Zhejiang goes back to ancient time. Neolithic Hemudu Cultural Ruins dating back as early 7000 years ago are regarded as one of the cradles of Chinese civilization. As early as the Spring and the Autumn Period (770 BC - 476 BC), Zhejiang was separately dominated by the Wu Kingdom and Yue Kingdom. From that time on, the Wu and Yue culture developed and flourished.
What to see
In terms of beauty, Zhejiang has long been a scenic spot for tourists since ancient time. Its capital, Hangzhou, with a long history of more than 2000 years, is a famous historic and cultural city. Furthermore, it is one of the six ancient capitals in China (The other five are Beijing, Xian, Nanjing, Luoyang and Kaifeng). There's a saying that illustrates the charm of Hangzhou: 'In heaven there is paradise, and on earth there are Hangzhou and Suzhou.'
As a key national tourist city, Hangzhou is picturesque all year round. The West Lake, one of the most beautiful sights in China, is located right in the heart of the city. West Lake is as beautiful as a painting. There are many other must-see natural beauties in Zhejiang Province which includes the Putuo Mountain, admired as 'Buddhist Land of South Sea'. The First Mountain in southeast China--Yandang Mountain, the most elegant Qiandaohu Lake, and the famous Buddhist mountain - Mount Tiantai are well worth seeing. There is the sacred Chinese calligraphy place--Lanting and the oldest private library in Asia -Tianyi Pavilion. The greatest water conservancy project in ancient China - Beijing-Hangzhou Grand Canal and the three ancient water towns-- Xitang, Nanxun and Wuzheng are all scenic spots that delight tourists who visit this region. If you happen to travel to Zhejiang on August 18th of Chinese lunar year, you will be lucky enough to watch the Qiantang River Bore. The famous tide-watching spot is the Haining City, which is 60 kilometers west of Hangzhou.
Zhejiang also enjoys a tremendous reputation in the long history of Chinese Buddhism. In Hangzhou, there is Lingyin Temple, which is one of the ten most famous ancient Buddhist temples in China. On the Putuo Mountain, there are three famous temples, Puji Temple, Huiji Temple and Fayu Temple.
In Ningbo, the King Asoka Temple is known for the preservation of Salgamuni's partial bone. While the Baoguo Temple is the oldest wooden architecture in the region south of the Yangtze River, and lastly, the Tiantong Temple is the ancestral temple of Japan's Caodong Sect , all of these temples are worthy of a visit.
Zhejiang is not only a marvelous scenic travel destination, but is also known as a land of fish and rice, and the beautiful silk. West Lake Longjing (green tea) has been awarded the highest prestige in comparison with various kinds of Chinese green teas at home and from abroad. Areas around Hangzhou, Huzhou, and Jiaxing are the main places of silk production. Zhejiang is also the place of Chinese celadon origin. As far back as the 11th and 12th centuries, there were two famous kilns in Zhejiang, Longquan Kiln and Hangzhou Official Kiln.