Study in Xinjiang
Xinjiang Autonomous Region
...........................................................................................................................................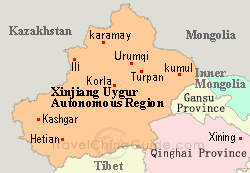 Study in Xinjiang
Xinjiang Uygur Autonomous Region covers over 1,600,000 square kilometers (617,763 square miles), one-sixth of China's total territory, making it China's largest province. Xinjiang borders Tibet, Qinghai, Gansu, Mongolia, Kazakhstan, Kirghizstan, Uzbekistan, Tadzhikistan, Afghanistan, Pakistan and India. With a population of over 19 million, Xinjiang is home to 47 ethnic groups including the Uygur, the major ethnic group in Xinjiang.
When to go
Xinjiang has a desert climate with a low annual rainfall of only 150 millimeters (6 inches). Winters are very cold and summers extremely hot. The best time to visit this province is in the autumn, when the days are long, the sky is clear and temperatures more bearable than in the heat of the summer. Another excellent reason to visit at that time is the abundance of delicious melons and other fruits and vegetables which are then available.
History
Xinjiang has a long history. The area was called Xiyu in ancient China which means "West Region". It was plundered by the Huns before the Han Dynasty (206 BC-220 AD). During the Western Han Dynasty (206 BC - 24 AD), Xinjiang was treated as an integral part of the nation's territory. Since then, Xinjiang was governed by all successive dynasties.
What to see
Superlatives are often used when describing Xinjiang: It is the most arid province; also contains the hottest and the coldest places; the longest inland river, the Tarim; the lowest marsh, the Aydingkol Lake (Moonlight Lake) in the Turpan Basin; the largest inland lake and the largest desert. In Xinjiang tourists can visit the world-famous Yardang Spectacle in Korla, stone forests, enjoy the mystery of the desert with its spectacular sand mountains. The ancient Silk Road brought Xinjiang a mix of eastern and western cultures which left behind stunning relics. Today, those ancient cities, caves, temples and tombs attract countless tourists from home and abroad.
While you are visiting Xinjiang, it is important to be aware of the time zone being used. Although officially run on Beijing time, Xinjiang people also use there own system. If Beijing time is used it means that the sun doesn't raise until 9am and it is still light at midnight in the summer months. When making travel arrangements, be sure which time zone or system is being used or you could get caught out.